Amanda, as you all know is our very own 'celebrity' has now reached week 26 and wearing aligner tray 13 of her Invisalign Journey.
You can really see the difference with the changes which are quite significant, I am sure you will agree.
Amanda says she receives so many lovely comments from her family and friends which boosts her confidence no end. The difference is really evident now in photos too.  The changes have greatly helped with managing her oral health care too, flossing and using ID brushes are also so much easier to manage, which is another great aspect of having Invisalign treatment.
Amandas' review appointment for the 'Debond' treatment is due in May, so just six weeks away from finishing her Invisalign journey. We cannot wait to see the final results and celebrate her journey as a team.
We have included a before photo (Amanda apologizes but it is a natural funny photo and a good shot!)
and the most recent photo of Amanda (and the cute Toby).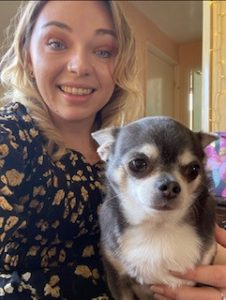 All we can say is WOW and we have not even finished yet.
As always, Amanda and the whole team are here to answer any of your questions in regards to Invisalign you may have,  do come and visit us to try out our Invisalign Patient Zone and see for yourself what a difference Invisalign could make for you.
You will always receive a warm welcome at Dental Studio so do not hesitate to call us to find out more or book an appointment.